Customer | Cylinder (Bottle) Exchange Program
LaFerry's Propane has 6 convenient locations to refill your grill cylinder, but what if you run out after 5 or on the weekend?
Exchange your empty cylinder for a full one at any of the over 100 retail outlets we partner with.
Just look for the Red & White lettering at a store near you: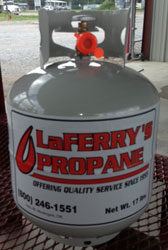 Why choose our cylinders instead of another brand? Unlike most other companies that only fill their cylinders with 15lbs of propane, we fill ours with a minimum of 17 lbs. That's an additional 13% of gas for your grill.